Tankhive2
Member Since Jan 16 2005 9:21 AM
Offline
Last Active Oct 31 2018 4:25 PM
About Me
http://img23.imageshack.us/img23/3870/biggestrscflamer.png [Image blocked; please upload it at an approved host.]
Damn stalkers.
SO HI. SUP. Name's David, I live in St. Louis, Missouri in the United States.
Clan history: may of mixed some of the timing up, but it all happened sometime or another.
Started playing RuneScape probably in 2002 or 2003, then quit for a long while before returning several months before the launch of Rs2 in March 2004(Forgot the pass to Tankhive, hence the 2 in my name). I joined my first clan, Deathrow, on December 24th, 2004. After some problems with several members I left to join Echo of Silence as they were allies with Dr at the time, being accepted on February 23, 2005 at 02:24 a.m. I've been in and out of Eos 3 times total, left once and was kicked twice for flaming and because council/leaders had a problem with my attitude. The first time I was booted I simply stayed clanless for a little while before reapplying, in which Eos re-accepted me. I was then booted again however in October 2005, again for flaming/bad attitude and put on Eos's blacklist. At this time I decided to give my old clan Dr a try, but things there had changed far far too much and I left after a day. I again stayed clanless for a short time before putting my eyes on Demonic Empire. I was a member of De for about 16 months, having joined on December 24th 2005 (exactly 1 year after joining Dr) and I really did love this clan. But after a long while mass leavings and bad leadership decisions led to De's fall in power, and my fall in attitude - which got me booted on May 6th 2007 for all in all, stupid reasons. (I joined Dec 26 2005, 05:48 PM and I was kicked May 6 2007, at 08:15 a.m. I was in De for 1 year, 4 months, 9 days, 14 hours and 27 minutes.) During my stay in De I pked with Eos often, and made even more friends in the clan (this led many clans eos fought to mistakingly think it was De + Eos many times). With that, a month after being kicked from De I re-applied to Eos yet again (April 2007), and was accepted. I've been Eos ever since, eventually receiving the Legendary EoS rank - reserved for people who have been in the clan for 2+ total years or more. A bit after rejoining I went inactive and eventually retired from both Eos and Runescape for half a year before fully returning around December 08. On September 27th, 2009 I was elected to EoS Council. A bit after the next elections, where I did not re-run, real life and computer problems hampered my ability to play, though I was still semi active. Still semi-active as of 2012.
RSC wise - at my most active I had the 16th most post on RSC. Used Tip.it and runehq before finally coming here, where the clan scene was so amusing I decided to stay.
Echo of Silence is a mainly Free to Play based pking clan that pks nearly everyday of the week. Forming in late 2003/early 2004, it originated as a Zeonic Force (basically the ancient version of Eh) break off clan when several disgruntled members left to form their own clan, which they named Echo of Silence. Over the years the clan has flourished into one of if not the top f2p pking clan. We pride ourselves in our activity and the ability to fight anytime, any day, against anyone.
Here are a few of our pimp sigs, the top courtesy of the leet goodboy7557.. (www.rseos.org/forums)
http://img193.imageshack.us/img193/7971/artemsseeg.gif [Image blocked; please upload it at an approved host.]
http://img160.imageshack.us/img160/7510/eossigrj7tg6.png [Image blocked; please upload it at an approved host.]
http://img152.imageshack.us/img152/2676/eos7yr.gif [Image blocked; please upload it at an approved host.]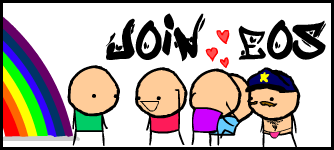 http://rseos.com/images/graphics/EOSUnderbannerok.png [Image blocked; please upload it at an approved host.]
Lot of old ones seemed to have vanished from ze forums =c
Anyway: some OLD ingame screen shots - from my time in De and Eos. (didn't know how to take pics when I was in Dr)
A De mith war long ago:

Df when they were quite new o.

Cow Alliance vs DEos

Eos vs Awaken mini war - eos starting opts

awaken vs eos mini war - eos ending

I come to save ze day.. eos vs someone at chaos, looks like Rr

Largest eos turnout to a pk up until that time - number has since risen to over 320 opts with 115 in audio.

one of the USA vs World wars

Eos vs Bk fight

Eos vs forgot who fun war

same as above only with fighting

Eos vs DL mini war

De mith war starting - good times.

Another pic from a De mith war

me and porkchop on w3 - he owns.

EoS vs RSD

Eos ending opts - mini war I guess

De vs Sr? dunno who Sr was but ye

And Ds crashing one of many De pkris.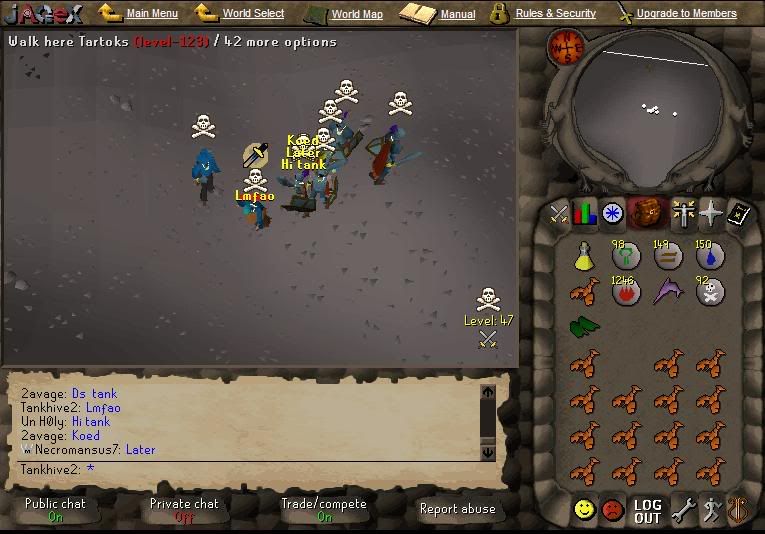 ---
Community Stats
Group

Member

Active Posts

11,409

Profile Views

9,224

Time Online

16d 18h 29m 53s

Member Title

Taste the Rainbow

Age

Age Unknown

Birthday

August 28

Location

United States (Missouri)
Runescape Profile
RS Name

Tankhive2

RS Status

Retired

Clan

EoS
Viewing Profile: Tankhive2