MetalManiac9
Member Since 15 Oct 2005
Offline
Last Active Nov 10 2016 06:46 PM
About Me
Heei everyone,
I won't give a lot of information about me here, you can all ready it in this topic.
That topic is my Goals & Achievements topic.
Please take a look at it and maybe reply to it too.
There will most certainly follow a reply from me.
Here is the link again, click this link and support me!!!
I'll use this place to add the medals and rewards I won in Runescape Elites or on Runescape Community.

♠ Runescape Elites ♠
http://img253.imageshack.us/img253/9274/mostactivetk9.png [Image blocked; please upload it at an approved host.]
http://img247.imageshack.us/img247/6750/activexr8.png [Image blocked; please upload it at an approved host.]
http://img165.images.../skillervg9.png [Image blocked; please upload it at an approved host.]
http://img153.imageshack.us/img153/70/medalofcommitment0002hm6.png [Image blocked; please upload it at an approved host.]
http://img90.imageshack.us/img90/7909/1xe9.png [Image blocked; please upload it at an approved host.] http://img346.images...eagilitysl3.png [Image blocked; please upload it at an approved host.]
http://img172.imageshack.us/img172/7695/summercomp2008top5fc3.png [Image blocked; please upload it at an approved host.]
♣ Runescape Community ♣
http://img210.imageshack.us/img210/1340/rebw8.png [Image blocked; please upload it at an approved host.]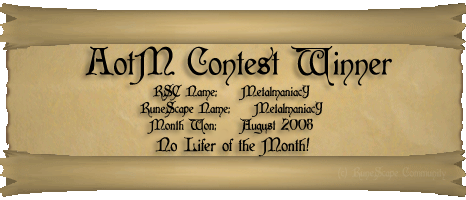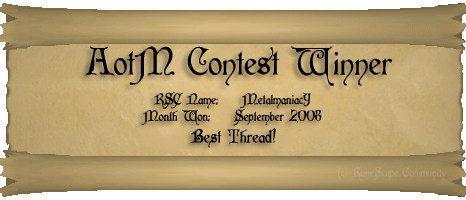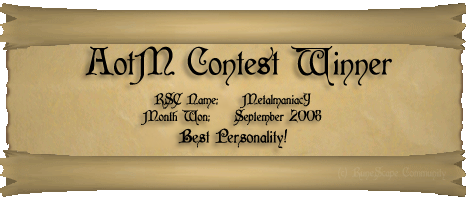 ---
Community Stats
Group

Zybez Exclusive

Active Posts

2,616

Profile Views

19,558

Time Online

14d 22h 45m 56s

Member Title

Dat Treasure Trail

Age

28 years old

Birthday

September 15, 1988

Location

Flanders
Runescape Profile
RS Name

Metalmaniac9

RS Status

Member

Clan

Forsaken & Clan Europe

Team

Team Swiffer
Contact Information
Viewing Profile: MetalManiac9