Skulduggery
Member Since Sep 4 2010 10:39 AM
Offline
Last Active Apr 14 2015 1:53 PM
About Me
Note: I have just returned after a several year hiatus and I did not see myself coming back. If you see me in game and you remember me send me a message. I'd be amazed if anyone does and even if they did, if they still play at all.
I have found a resurgence in love for this game which drew me in with legacy mode, although I've switched over to revolution as legacy was just so inefficient. Currently slaying/dungeoneering as those are the two skills I enjoy the most along with maintaining quest cape.
If you're that interested, here's a little bit about me:
Name: Josh
Age: 20
Gender: Male.
Occupation: Currently studying maths at university.
Food: Tiramisu. Biscuits. Stuff that's bad for you.
TV Shows: Anything by Joss Whedon, Sherlock, Game of Thrones, Breaking Bad, Being Human, I could go on.
Films: Lord of the Rings, Scott Pilgrim vs The World, Donnie Darko.
Anime/Manga: Madoka, Kimi ni Todoke, Toradora, Hyouka. Shoujo/romance stuff generally although I do like other stuff like Death Note, Attack on Titan, Monster, GTO, Fairy Tail.
Music Genre: An eclectic mix that makes zero sense. Not rap or pop or anything like that. Metal to classical to House depending on my mood.
Games: Runescape obviously, Skyrim, Minecraft, League of Legends. I'll play anything people on my teamspeak server play.
Quote: Life consists not in holding good cards but in playing those you hold well.
Animals: Badgers and Cats, especially mine.
RS Info:
Bank: Around 50m, constantly changing.
Quest points: 369 (max).
Total level: 2300 and counting.
Home world: 100
Favourite Quest: The World Wakes.
Favourite Skill: Dungeoneering/Slayer.
Favourite Outfit: Back in the day this is what I wore, currently wearing an iteration of this. Investigators hat and Quest cape are the core pieces.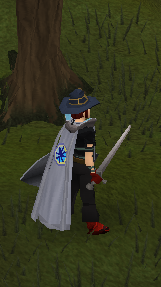 ---
Community Stats
Group

Member

Active Posts

453

Profile Views

8,351

Time Online

5d 4h 48m 37s

Member Title

Member

Age

Age Unknown

Birthday

Birthday Unknown

Location

UK
Runescape Profile
RS Name

5kulduggery

RS Status

Member
Viewing Profile: Skulduggery