Jaddy
Member Since Dec 16 2008 7:31 AM
Offline
Last Active Aug 16 2018 10:51 AM
About Me
About me:
I am Jarko, I live in the Netherlands and I'm 21 years old. Right now I study biology in Leiden and I am almost done with my third year (out of 5). I have a passion for snakes, which is the main reason I chose to study biology, and as an effect, I will most likely major in the major called Animal Biology and Disease Models.
I have a pet python (Python regius). He is about 5 years old and ~150cm (5ft) long. 1 2 3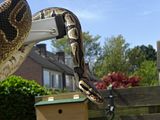 Confusion about my RSN: my name has nothing to do with TzTok-Jad
. _100 is an old username I used for another game, but since the _ didn't count, the name was too short. so I added my initials J.A.D. to it.

My RSC history:
Fall 2006: Started playing RS.
16 December 2008: Joined RSC
Spring 2011: Promoted to

06 July 2012: Promoted to

22 July 2012: +1 rating by Bolsh
3 August 2012: Promoted to

November 2012: Member of the Month (together with Nitromanic)
Februari 2013: Promoted to CL of Zybeznet
30 March 2013: +2 rating by ToeJam
1 April 2013: Joined the Blogs and Comics team
22 April 2013: Promoted to CL of Questions, Moneymaking and Marketplace
April 2013: Second place Member of the Month
May 2013: Thrid place Member of the Month
26 June 2013: 3.000 posts
June 2013: Winner of Achievement of the Month and Personality of the Month
27 July 2013: Promoted to

July 2013: Winner of AotM Best thread
2 September 2013: Joined Content team
30 September 2013: +3 rating by Sector Six
9 November 2013: 4.000 posts
25 November 2013: Became Co-leader of Zybez20 along with Jim
2013: Runner-up in Outstanding person and Best Senior Member of 2013
2013: AotM Personality of the Year
January 2014: Winner Achievement of the Month
23 February 2014: Winner Agility part of the ASC #30
25 March 2014: 5.000 posts
March 2014: Winner Personality of the Month
August 2014: Winner Achievement of the Month
27 January 2015: 6.000 posts
13 February 2015: +4 rating by Kevin♫
March 2015: Winner Achievement of the Month
September 2015: Winner Achievement of the Month
My RS history:
Fall 2006: Started playing RS
Fall 2007: Became member
Summer 2009: 99 Cooking
7 Februari 2010: 99 Agility
4 July 2010: 99 Defence
6 October 2010: 99 Construction
12 March 2011: 99 Hitpoints
13 March 2011: 99 Ranged
2 July 2011: 99 RuneCrafting
1 October 2011: 99 Firemaking
21 October 2011: 99 Prayer
26 October 2011: 99 Dungeoneering
14 December 2011: 99 Strength
9 Januari 2012: 99 Hunter
16 Januari 2012: 99 Attack and 138 Combat
25 Februari 2012: 99 Magic
13 March 2012: 99 Smithing
27 March 2012: 99 Farming
11 April 2012: 99 Herblore
27 April 2012: 99 Summoning
15 May 2012: 99 Slayer
11 June 2012: 99 Crafting
11 July 2012: 99 Thieving
13 July 2012: 99 Mining
16 July 2012: 99 Fishing
6 August 2012: 99 Woodcutting, 99 Fletching and Max Cape
19 October 2012: 120 Dungeoneering
30 October 2012: Completionist Cape
25 September 2013: 99 Divination
29 January 2014: 113 Agility
7 August 2014: 120 Agility
October 2014: Started Ironman account 'Jarko'
26 January 2015: Quest Points Cape
2 March 2015: 99 Agility
24 March 2015: 99 Mining
30 April 2015: 99 Smithing
29 May 2015: 99 Attack
19 July 2015: 99 Herblore
2 August 2015: 99 Constitution
27 August 2015: 99 Slayer
1 September 2015: 99 Firemaking
6 September 2015: 99 Strength
6 September 2015: 99 Prayer
11 September 2015: 99 Ranged
11 September 2015: 99 Defence
14 September 2015: 99 Summoning
17 September 2015: 99 Magic
15 October 2015: 99 Crafting
17 November 2015: 99 Fishing
20 November 2015: 99 Cooking
14 December 2015: 99 Fletching
15 December 2015: 99 Farming
15 January 2016: 99 Runecrafting
28 January 2016: 99 Thieving
8 February 2016: 99 Construction
14 February 2016: 99 Dungeoneering
19 February 2016: 99 Woodcutting
My RSC/Zybez contributions:
Blogs:
The Sun Goes Down, The Grind Comes Out (1/2)
Saving Runescape's Skills From Uselessness
Barrows, Dug Their Own Grave?
On The Origin Of Combat Levels
Podcasts:
Episode 29
Episode 30
Combat beta and Legacy special
Episode 32
Guides:
Divination guide
---
Community Stats
Group

Member

Active Posts

6,453

Profile Views

54,680

Time Online

197d 19h 50m 30s

Member Title

Accomplished Agility Freak

Age

25 years old

Birthday

February 6, 1993

Location

Leiden
Runescape Profile
RS Name

Jaddy

RS Status

Member

Clan

Zybeznet

Team

Zchat
Viewing Profile: Jaddy