abedackid
Member Since 10 Sep 2007
Offline
Last Active May 29 2014 01:00 AM
About Me
My Clan Career:

Introduction to clanning:

Well, I am really bored right now so I will start on my about me page. Ever since I was introduced to clans, everything has been a blast. The runescape world just seemed much larger than the old one that I've always known. Anyways, I believe that I was introduced to clans in the year of 2006. I was training at white knights that time when the leader of "runescape all stars" asked me if I wanted to join a clan. Me being the clueless guy back then, I asked what clans do. The leader (I cant remember his name) just laughed and said that they warred and do other random events. I joined that small clan that consists of around 30 members and was excited to go to on my first event with the clan. Our first pk trip didnt end up well. I packed up gear consisting of full addy and a rune scim. We went to gdz and got annihilated by a much larger clan. Everything went downhill from then on. The clan went inactive and the leader rarely logged on. All the members were inactive and we rarely held any events. I left the clan in search of a more active clan.
A new era-

Ever since quitting Runescape All Stars, I've been constantly searching for a new clan to join. There weren't many clans that I have the necessary requirements to join that caught my attention. I decided to make my own clan in hope that it would end up well. The clan I made was called "Runescape Lessers." I urged people to join my clan and mass recruited. In 3 weeks, our memberlist shot up to 70. I then declared war on an alliance named "The United Republic of Runescape (URR)." We were pumped for this war, but the turnout was terrible. We had around 20 people out of 70 show up. Unfortunately our opponent didnt show up and our members were angry with them. We officially marked them as an enemy and continued on our pk trip. We went to gdz but got crushed by a giant pure clan (couldn't remember what clan but I think it was Fatality). When we marked the URR as enemies, many small battles broke between us. We won the majority of the time. There were never any official battles to end this conflict, but we ended up with a peace agreement. Nothing happened for the next two months. Then, a clan called TC declared a steel war on us. We brought our ally CF with us and had around 120 opts. We charged and we dominated. Our casualties were very small and our members wanted more action. We decided to pk with our steel armour and collided into Ressurrected Forces. Their levels, organization, numbers, and the fact that they were wearing rune were too much for us to withstand. We got cleared within 5-10 minutes. After this war, our clan slowly declined in strength and activeness. People were quitting/getting inactive. I decided to close the clan because it was too hard to lead one.
The Ubh era-
After closing Rsl, a friend of mine named Elias recruited me to a clan called ubh. He's been telling me all sorts of good stuff about ubh. Ubh was the turning point of my clan career. I've learned everything in ubh from tanking to hybriding. Lots of new stuff were introduced to me and I finally got the hang of it. Because of joining ubh, I know what the real clan world looks like. It was from the eyes of this clan that I saw reality and skill and organization in fighting. I learned many new warring tactics and met lots of new people. The environment was friendly and ubh seemed like the perfect clan to be in. As time progresses, my devotion to ubh has allowed me to contribute more to the clan. Soon, I was promoted to trial council and then high council. I worked hard as a high council, trying to regulate the forums and help out the clan. I grew inactive after a while because of school and other irl issues so I resigned in hope of having a better high council replace me. My time in ubh was unique and our wars were diverse. Pvp came out and we became a strong force defeating many clans. We warred many clans like phoenix elites, 2mighty, forgotten templars, adelais, solar angels, kts, triforce, and 3x. We pulled our highest opts ever since pvp came out in our war against 3xtermination with a show of 45/66. After the war, things started getting worse. Our opts gradually decreased and more people turned inactive. Our 66 man ml soon dwindled to 40 something. This was part of the reason why ubh closed. Our leaders also weren't as active as before and real life issues played a large role. Our last war was against tfc and that was the end. I would like to thank everyone who joined this clan. I also would like to thank our rivals Phoenix Elites, Solar Angels, and 3xtermination for making our wars more enjoyable and intense.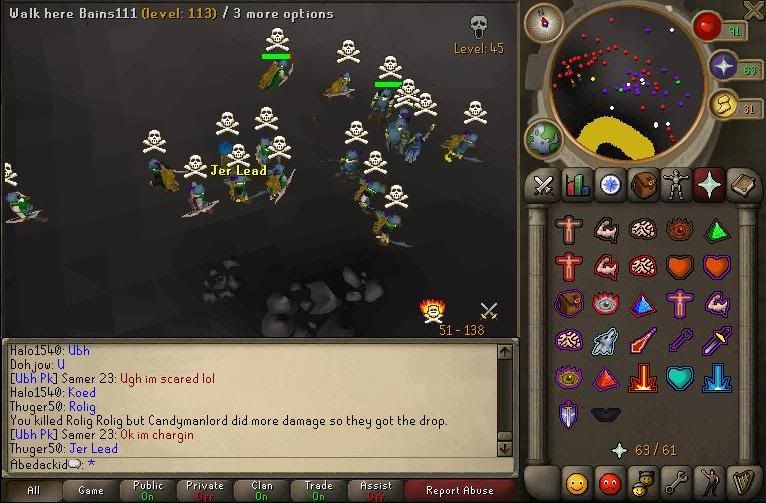 Picture of a pk trip we had
The Lth era-
After ubh closed, I decided to join lethality in order to help my old friends out a bit (my current clan). I wasn't as active as before so I couldn't lose as much rune sets and join a solely pvp based clan. It's sometimes nice to take a break from money wasting pvp and transition to cwa. I'm enjoying my time in Lth so far. It's amazing to see how a weak clan transformed into a stronger clan. Everything seemed fine until the snowball effect occured. People were starting to concentrate more on real life or starting to move onto a new level of clanning. I was about to quit, but decided not to because I've always will feel guilty for leaving a clan just because they're slumping. We were in a slump for quite a while until Kassie held a recruiting contest. It was surprising to see so many people participating, considering that all past recruiting competitions failed. We are finally beginning to pull in the low 20's now, making warring much less boring. This however, isn't enough to prevent boredom. I'm probably going to stay in this clan for a few more months before ending my clanning career.
My Current Top Clan List:
Rsd- Solid #1. Pretty consistent when it comes to long prep wars.

Tt- You are right under rsd. If you start pking more and pulling more opts, then you'll be the new #1

Vr- Seems to be pulling low lately, but has the ability to pull 240+ opts when it comes to week prep wars. Crash war is definitely not going to help your clan.

Rot- Pulling 300 opts against Af puts you here. Has ability to claim #1 if really motivated.

Df- Your 80 man pull recently puts you here. If you weren't in the crash war, I bet you would be ranked top 3

Eos- Haven't seen you pull high recently. Win some week prep wars if you want to be ranked higher.

Fools/Trwf- Fools are doing very well recently and can climb the ranks when motivated.

Trwf/Fools- Your 300 opt pull against tr is amazing. If you can pull that against the clans above, I can see you breaking into top 5.

Tr- Don't feel bad about losing to trwf. 270 opts is still amazing and if you can consistently pull that, then I can also see you breaking into top 5.

Cor- Seems to be steadily rising from their slump. Get more action in order for higher rank.
---
Community Stats
Group

Member

Active Posts

3,415

Profile Views

3,839

Time Online

4d 9h 59m 21s

Member Title

Mad club

Age

Age Unknown

Birthday

Birthday Unknown

Location

Wilderness
Runescape Profile
RS Name

abedackid

RS Status

Free

Clan

Lethality
Viewing Profile: abedackid