Introduction
Guthix War Camps
The Captured Flags
Tracking the Flags
Health Restoration and Fallen Warriors
Camp Perk
Hood and Cape
Rewards
Capes' Special Effects
Animal Morphing
Notes
How to Support
1. Introduction:
When I used to be a member, believe me, I used to LOVE Castle Wars. But now as a non-member I've realised how utterly boring it can be. Repetitive or what?
So then the idea hit me, why not add another team? Surely Guthix will get bored after an age of being neutral? Well now you can find out what I visualise as possible, when Guthix enters the God wars fray - enjoy RSC!
2. Guthix War Camps
Now instead of a castle Guthix players will have 2 War Camps consisting of 5 tents respectively with
10,000
HP each. They will be located near both the God castles next to the stepping stones. The Guthix team will
lose
if all the tents in just
ONE
camp are destroyed.
So how can we set about doing that, I here you ask. Well, you can:
Set them on fire. The flames act as poison, draining 100 hp every 30 seconds.
Using explosive potions which cause 100 damage each. When you use a pot on a tent, there will be a mini explosion - during which your character will jump back. This will activate a ten second time limit during which you cannot use another potion on that same tent. If you try, then your character will fumble with the potion and drop it, causing you to take 100 damage instead.
Attack them yourselves .
Guthix players can put out the flames by using empty buckets on the streams, and then pouring the water over a flaming tent(s). Dousing the flames reduces the amount of damage inflicted by fire, and repeated dousing extinguishes them for good (the figure will vary randomly, between 3 to 5 attempts). Alternately, you Guthixians can keep in the game by using a hammer (170 hp restored with each use) on any tent which is rapidly disintegrating. Obviously, the latter would be a very boring task. To make up, each successful restoration provides the saviour with 100 crafting exp. Likewise, dousing the flames gives the respective player 100 hitpoints exp. Buckets and hammers spawn in random areas within the two camps. Note that if a tent has been destroyed - it cannot be re-built.

Moving on to the attackers again, the player who has dealt the most damage to a tent after it has been destroyed receives 2 extra tickets at the end of the game, regardless of wether he/she was on the losing side. So if a player has dealt the most damage to all 5 tents, he gets an extra 10 tickets at the end. Jolly good, what?

Some more details you should take note of:
Surrounding both camps is a barricade with 4 doors: a northern door, eastern door and etc. Each door has 2500 HP and at least one door must be destroyed to enter the camp. The doors can be attacked by players and set on fire just like the tents. Likewise it can be fixed using hammers, dousing flames and killing invaders. Destroyed doors cannot be re-built.
Guthix players can enter their camps by opeining a side door which only they can access, shutting automatically when he or she is inside.
For every one damage point dealt to the War Camp tents or War Camp doors, there is a gain of 1 experience point in the skil which you use. For example, hitting a 10 using strength will result in the gain of 10 strength exp.
The special effects of weapons will not work in dealing damage. Only special ATTACKS are permitted other than regular attacks. For example, a player can use the dragon longsword's special attack, 'Cleave', to do further damage to a tent, but the special effects of the ruby bolts (e) will have no impact. The bolts can only deal damage through their regular strikes.
To make it fairer on Guthix players who are trying to desperately defend the camps - the two sets of stepping stones will be taken out, otherwise Guthix defenders will be fighting on two fronts to defend just one camp. It didn't work for Germany in either of the World Wars, so I doubt these lads will have any more success... Actually, forget that. I have decided to retract this particular idea. Reason being it defeats the point of the game being an absolutely hilarious display of chaos in the first place! I'm sure traffic will actually be evened out in the long run if players have the inherent freedom to move around the map more.

If Guthix is defeated (both camps destroyed), Guthix players are randomly teleported to either Zamorak's or Saradomin's respawn rooms, so they can carry on playing a normal Castle Wars game. This is so that don't have to wait outside in the waiting room for 20 or so minutes for a new game.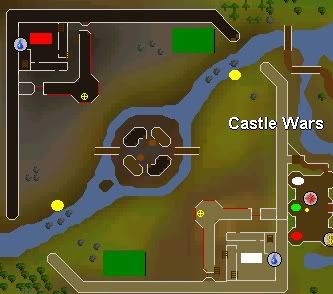 Yellow blobs = stepping stones (will be removed)
Green boxes = War Camps
3. The Captured Flags:
Any flag that has been seized by Guthix players must be placed on a stand in the middle of one of the two camps. If both flags are in their respective camp stands at the same time, for however long they remain there - all Guthix tents will have their HP consistently replenished by 600 points every minute. But remember that these flags can be re-claimed by opposing players. Though to put a little twist in this, Saradomin flags can only be taken by
Zamorak's
players , and vice-versa. This may seem unfair to the players whom the flag(s) represent, but I think it just adds some more excitement to the whole thing.
To reclaim a flag, the player just has to simply click on it. However, if the flag was taken out immediatly it would be unfair on the Guthix team players as they would hardly be able to defend it. So imagine you're a Zamorak player and you've just tried to claim the Saradomin flag. Your character will be engaged in a 10 second struggle trying to pull the flag out of the stand - giving time for Guthix players to defend it. By attacking you. If you die having just removed the flag, it will remain standing on BUT - only Saradomin players can pick it up again (to make up for their inability to take it back in the first place).
Hopefully, this will all make both teams more careful about where their flags are, and how much protection it's getting.
4. Tracking the flags
Due to an idea further down the thread, I guess that it would be chaotic if no-one on the Zamorak and Saradomin teams knew where their flags were at any given point. So for example, if a Team Guthix player succesfully places the Zamorak flag on a flag stad in one of the War Camps, the following message will appear in the Zamorak players' public chat box (regardless whether it is off or on friends).
'I demand you to re-claim my standard, or risk suffering my divine wrath!'
Thus alerting Zamorakians that their overlord's flag has been captured by the Guthix players. Likewise for Saradomians:
'I am most displeased with your lack organisation. Sort yourselves out, or else!'
All this will save Saradomins and Zamokrakians from running around wondering where hell their insignia is.
5. Health Restoration and Fallen Warriors:
Obviously Guthix players need a way of restoring their HP and run energy. So in the same way the other two teams have bandages, Guthixians will be blessed with
Nature Balms
that will restore
150 HP and 40% run energy
instead. The balms (green in colour and simillar in appearence to ectophials), can be aquired on a small table simillar to the ones which hold bandages in the Saradomin and Zamorak respawn rooms. The tables (one in each camp) are located in the centre of the war camps. As for players who are killed whilst serving Guthix, they respawn randomly in either if the two war camps.
So this is a rough perception of what an average Nature Balm will look like:

6. Camp Perk:
I was thinking, if the God castles have an extra weapon to their arsenal - the catapaults, what will the Guthix camps have? Maybe thier own catapault? But that wouldn't work seeing as they were on flat ground. Then the idea hit me that they both could have a
Flag-seek Orb
. Basically a green orb situated next to the flag stands in both War Camps that has 'seek' option (believe it or not), allowing players to choose a 'zone' of the battlefield to survey (the grounds are divided into 4 invisible zones all of equal sizes). But you cannot look inside the tunnel system as there is a limit on how helpful I will be! The seek option can only be used once every 5 minutes, and only by
ONE
player at a time. So it is possible to view the battlefield, and shout out the flag location if you see it to those comrades around you. If you can't see on the surface, the flag is obviously hidden in the tunnels! There is a time limit on how long a player can 'seek', which is 30 seconds - so the observer better be quick!
When looking through the orb, you will be able to cast your eye over whichever zone you chose - in a BIRD'S EYE view. When looking from above, a yellow arrow will be pointing across towards a player who has one of the God flags if that person is in the zone you're currently staring down at. If both players are, then you will have two arrows pointing at two people - obviously.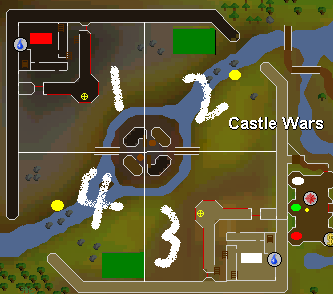 The white lines depict the Zone boundaries.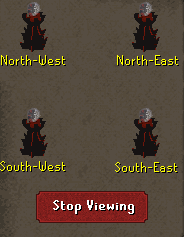 This is basically what I want the viewing orb to look like. Lol, please don't flame me by saying 'OMG that's from the TzHaar pits!' because I'm not very good at computer graphics. So basically:
North-west = Zone 1
North-east = Zone 2
South-east = Zone 3
South-west = Zone 4
7. Hood and Cape:
Every Saradomin and Zamorak player has a cape and hood to show his allegiance, so the Guthix boys (and girls) should have one as well. Introducing the Guthix hood -  

And the awesome cape!
 

Thank you very much Dan for supplying these excellent pictures!


8. Rewards:
Guthix players, due to the extra amount of work they have to put in, will get better rewards as a result. The origional reward was 10 tickets, but due to some complaints of this being too high, I have decided to lower it too 5 tickets for a Guthix win. If they drew (finished with just one of the God flags), they recieve 2 tickets and obviously if they ended with no flags, they recieve nil tickets.
And now, prepare for a new item ready to go on sale from Lanthus, the
Guthix War Cape
! Thanks very much
das1ngerplayer
for this unasked help! The pic is below...  
http://img159.images...52704126tp1.png [Image blocked; please upload it at an approved host.]
The War Cape will have +10 in all defence stats and an additional +2 prayer bonus. But don't think this will be cheap, it weighs in at a hefty 4,000 game tickets! Only the strong will perceviere to get this. And by strong, I mean it. It'll only be available to players who have the following skills at 65 each, as a minimum.
Attack
Strength
Defence
Prayer
Range
Magic
Hitpoints
But in addition to the normal War Cape, me and Dan have decided for a second. The Trimmed [Guthix] War Cape! The two will operate just like a normal untrimmed skill cape, and the equivalent trimmed version. The War Cape (t) has +12 defence bonuses, an an upgraded +3 prayer bonus too! Don't think however, they will be five a penny. Guthix War Cape (t)'s will cost a player 8,000 tickets
. Requirements? The above seven combat skills all have to be over 70.
 
http://img519.images...igsmall1zm0.gif [Image blocked; please upload it at an approved host.]
The Trimmed War Cape
Due to popular demand (well, a few suggestions) I have finally decided to release a Saradomin War Cape! A picture of the trimmed and untrimmed versions are displayed below. Thanks go to Dan for supplying the pics!
 
The untrimmed version will cost 4,000 tickets and provides a +12 to all defense stats. To wield this cape, a player must have at least 85 defense.

The trimmed version will cost 8,000 tickets and provides the same +12 to all defense bonuses, but it's prayer bonus is increased to +3 to compensate. It requires, at the very least, 90 defense to wear.

And now, ladies and gentlemen, what you've all been waiting for - a Zamorakian War Cape!
 
[insert sexy picture soon-to-be-here, here]
The untrimmed version will cost you 4,000 tickets, and provides bonuses of +6 to all your defence stats. Lame? Well, to make up for the shortcomings, it compensates for having a wild +6 bonus for all attack stats too! Players who want to show this off must have 85 attack.

The trimmed cape in comparison, will have a slightly improved +7 bonus to both attack and defence, but also comes with a handy +1 bonus to strength. To wield the trimmed copy, prospective players must have at the very least 90 attack, as well as 8,000 tickets.


9. Capes' Special Effects:
Guthix:
First of all, the untrimmed cape. Its special effect is known as Balanced Strike. BS basically evens up the odds if you are fighting a monster/player who has a higher combat level. So let's get down to the maths. Imagine that you are taking on a level 63 ogre. Take the ogre's first hit against you. Let's say that it hits a 7. We take the monster/player's combat level (63) and divide it by the first hit (in this case 7). This should give 9. Therefore your attacks will be 9% more accurate and stronger, while your defense hardens also by 9%. All balanced out. If you were using magic or range, then your attacks would be 9% more accurate, powerful and faster. However if you are using a safe spot, then this will not work. Balanced Strike has a 1/75 chance of activating. Also, please note that Balanced Strike can only work if the monster/player you are attacking or being attacked by has a higher combat level.

The trimmed cape has a rather different effect. It is called Balanced Barrage. This should aid those who like to adventure into the wilderness every now and then. This will also even up the odds a bit aaginst those pesky team PK'ers. So let's imagine that you've just been ambushed by five of them. You are wearing the trimmed cape and basically, your doomed. So why not go down with guns blazing? Well, that's what the cape allows you to do.

Imagine that one hits a 19 on you (ouch). The cape luckily is activated at that time, and it reflects the damage back not only to the one who delt it, but also to anyone else who was attacking you at the same time. So all 5 PK'ers also get hit by it. However for balance, you are still damaged by the attack.
Balanced Barrage will only work if you are being attacked in a multi-combat zone by two or more players. The chances of this being activated are 1/50.

Saradomin:
The special effect of the untrimmed Saradomin cape is called Blessed Health. For a random amount of time spanning between 5-15 seconds (the better your defense level, the longer) any damage dealt by your opponent/opposing NPC is added to your health. As opposed to deducted. The effect ceases when your health bar is either restored to it's maximum capacity or the duration expires. The chances of this happening is the same as the chances of stealing health off someone if wearing a full Guthans set. You may wonder whether it's worth getting this cape if you already have the latter, but keep reading. If you're wearing BOTH [Saradomin] cape and Guthans, the infestation is doubled. I'll put it this way. Instead of getting hit for 9 and only gaining 9 HP if you have one or the other, wearing both doubles this value and heals you buy 18 instead. Very handy.

The special effect of the trimmed Saradomin cape is called Divine Intervention. It kicks and stays in the same way and for the same duration as Blessed Health, but it's powers are obviously very different. For the allocation of the special's timespan, all of your opponent's attacks will be completely negated - and your health will rapidly regenerate at a rate of 100 points every three seconds (with blue sparkly spirals shooting from above your head down to your feet around your character's body). This could easily turn the tables in a very close fight.

Zamorak:
The untrimmed Zamorak cape's special effect goes by the name of Divine Retribution, and here's how it works. Let us say that you've just been hit for a 10 by some random NPC or player. If the cape had activated itself before this single hit, then your all your combat stats are boosted by 10% for the duration of the fight. If you emerge successful, the cape de-activates, and you'll have to wait for it to come alive again in another duel to reap in the powers. Obviously, such an ability would be overwhelming if accessed lightly. I'll decree that if you're wearing an untrimmed Zamorakian cape, you have a 1/100 chance of powers coming out. However, there's a snag and perk in this. For every combat level you are higher than the opponent, the denomenator gets correspondingly larger. So if you're 5 levels above some random guy you attack in Lumbridge, the cape has a 1/105 chance of helping you out. Likewise, for every combat level you are under an opponent, the denomenator gets smaller. So if you're fighting someone who is 5 levels above you, the chance of getting some divine retribution is 1/95. Sadly, I have to put a cap on how much help you're going to get with the latter system, so the cape's probabilities won't fall below 1/50 or go above 1/150, just to keep everything realistic.

The trimmed Zamorak cape has exactly the same ability and probability of activating, but its effect in battle is more intense. Let's say your trimmed Zamorakian cape activated itself, and you got hit for 10, the cape divides this figure by two, giving five, and adds that five onto the ten and gives you an extra 15% stats boost as opposed to just 10%. Obviously you may be thinking what's the point paying out more to get this trimmed feature, for next to no difference. Well, if you're getting smashed, and I mean smashed, like hit for 50, would you rather have a 50% boost or 60% one? It all adds up, folks. Such bonuses could be the difference between [virtual] life and [virtual] death.


10. Animal Morphing:
Hopefully you should all be aware that entering the origional 2 God portals with the opposing deities armour will result in your transformation into either a rabbit, sheep or imp. But what happens if you enter the Guthix portal with lets say - Saradomin platelegs? Well, for Saradomin armour you will be transformed into a terryfing
Swordchick!

And for Zamorakian armour you will be morphed into a lovely Brine rat!
 

And you all should know that you recieve a message from the God you offend before you transform. Well the message from Guthix will be -
 
"I pity the fact that you worship my brothers inspite of my glory. Therefore i shall transform you into an animal worthy of them."
And then you know the drill, next thing is you're stuck as a an animal for the rest of the waiting session!


11. Notes:
And too all of you who will think that Guthix will not win often due to all the things they have to do, it depends on who is on the team. Obviously a group ancient mages can easily secure the win. With several at each camp, they can just freeze any opposing players before they get too close to start dealing damage. Leaving the rest of the team free too go and capture the flags. Obviously Guthix's succsess depends on how co-operative and organized the team-mates are, they have too sort out which flag goes in which camp and how to defend the camps.
Any Guthix players who wish to leave the game at any time may step into one of the 'peace portals' in the middle of both tents. This will take them back to the waiting room.
In conclusion, I thoroughly believe this could make Castle Wars even more fun and exciting than it already is. Many people will be like
at first. But if you took enough time in reading this im sure that you will
eventually
understand how smoothly this could work. Also, due to comments from several users, this update will only be applied to
some
servers. Meaning those who enjoy the origional Castle Wars format won't lose it, and those wanting to try this out can still do so. A win-win situation for all.
It really makes me feel great to see how far this thread has progressed. When I first posted it, it was a mere paragraph and a bit long. Now its grown astoundingly! You can keep improving the quality of this idea with your own suggestions. How do you make yourself heard? Post!
12. How to Support:
Hopefully many of you will like this idea. If you would like to show your support, please add this support banner to your sig, gratitudes to
Peateattfield
for coming up with this snazzy banner! A link has been added to it, so post it on your signature and attract more members to this topic! Show your support now!  
[url="http://forums.zybez.net/topic/896844-castle-bores/"][img]http://i226.photobucket.com/albums/dd186/mew-lp/GuthixUnder-1.png[/img][/url]