Offline Messaging
Table of Contents:

1. Introduction
2. The Offline Messaging Tab
3. Inbox
4. Compose
5. Drafts
6. Sent
7. Possible Problems and Solutions
8. Conclusion
9. Support Signatures
10. Version History
11. Credits
1. Introduction
I posted this suggestion a few years back before RuneScape 2, and it received positive feedback. Since then I had decided to redo the suggestion, adding a lot more detail and depth compared to the original version. This version also was re-written to correspond with the newest interface of RuneScape we see today.
This idea came across to me when one day I wanted to get in contact with a RuneScape friend, but they were offline at the current time. It was an urgent message that I needed to let them know and wasn't too sure if I'd be able to catch them on the same time I would be on in the near future. So I thought, why not have some kind of e-mailing system in RuneScape?
Offline Messaging would allow the sending of messages to other RuneScape players, whether they are online or offline, but the main purpose of sending to those who are offline. This feature would be available to both members and free players. This would be very useful when informing someone else of something you would like to tell them, but you can't due to them being offline or just logged off unexpectedly.
Imagine, your friend has just logged out and you've forgotten to tell them something important. You don't know when they will be online again. This Offline Messaging system would allow you to quickly send them an Offline Message, and the next time they log on they will receive your news and will be informed without you being online at the same time. It can also be useful for sending messages about an event in the near future, such as a drop party, PKing session or clan war for example.
Throughout the suggestion I will use a number of different images depicitng how the Offline Messaging system will appear within the RuneScape interface. This is to allow the reader a clear perception of my idea.
2. The Offline Messaging Tab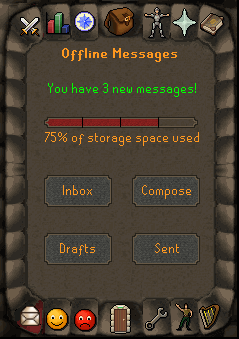 An extra tab would be added on the bottom left corner of the user panel, appearing next to the 'Friends List' tab. Simply clicking the envelope icon

will bring up the Offline Messaging section, as seen in the picture above. From here you are introduced to a variety of options which will be explained in detail below.
New Messages:
If you have received any new offline messages since you last logged onto RuneScape, you will be alerted in the Offline Messaging tab by a line of green text saying
. To view these new messages, you will need to click on the "Inbox" button which will be explained later on.
Message Storage Space: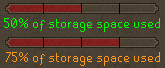 This bar indicates how much storage space for messages you have used and how much is free. You will be indicated of your exact usage by the line of text, "X% of storage space used" (image above). The bar beneath it gives a visual indication of your usage as well. The bar is split into four sections, each representing 25% of storage space. When your usage is below 75%, the text indicator appears in
green
. When the usage is at 75% or more, the text indicator appears in
orange
to warn you that you have almost used up all of your available space. Usage composes of the following items:
number of messages in your inbox
the number of messages saved in your "Sent" section
the number of messages saved in your "Drafts" section
You would be given a maximum of 100 messages of storage space which includes all the usage factors just mentioned.
3. Inbox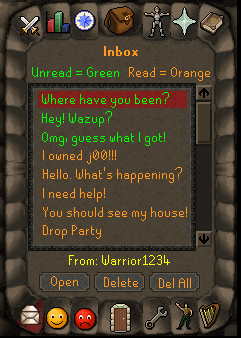 This is the main feature of Offline Messaging. This is where all your messages from other RuneScape players are stored. The picture above shows the appearance of your Inbox. Firstly, as indicated at the top of the inbox screen, 'Read Messages' appear in
orange
text and 'Unread Messages' would appear in
green
text. This allows easy viewing and sorting of your messages. All new messages are immediately placed at the top of the list.
Viewing a message: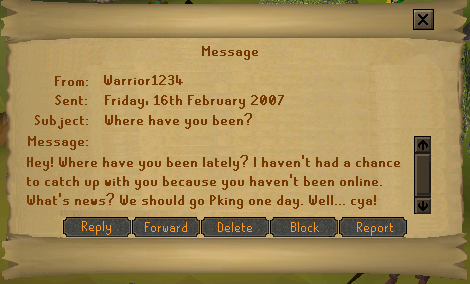 Simply click on the message title to highlight it. Once the message is highlighted, you have a few options. To see who sent you the message, you must highlight it and the sender's username appears at the bottom of the Inbox screen. It will say, "From: X". You can either click "Open" to view the message, "Delete" to permantely dispose of the selected message without viewing it at all, or click "Del All" to delete all messages in your inbox.
* Note: When you click "Del All" or the "Delete Button", you will be asked to confirm this in case you clicked them accidently.
From looking at the picture above, you are shown the sender's username, the date the message was sent and the subject name are all shown at the top whilst the message is displayed below that information. Once you have read the message you then have a variety of options:
Reply:

Clicking this enables you to send a message back to the sender in reply to their message.

Forward:

Clicking this allows you to send the message you have received to other players.

Delete:

Clicking this will delete the current message you are viewing.
Block: If you do not wish to receive any more messages from that particular sender, then clicking "Block" will add that username to your Block List.

Report:

If you find that the message you have just received was an abusive one or breaks any of the RuneScape rules, then you can click this button to report the offensive message to Jagex staff. This would work just like to regular Report system, although the message you are viewing is instantly sent to Jagex for review once clicked. A confirmation screen would also appear before reporting.
4. Compose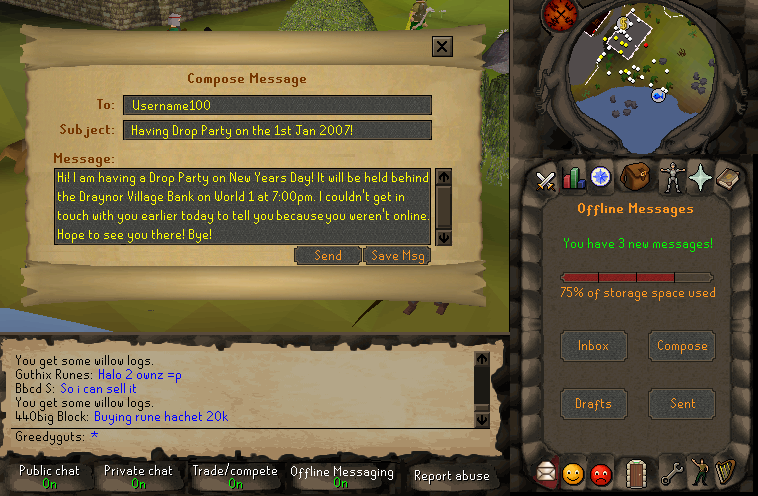 The above picture not only shows the compose message screen, but also the entire RuneScape interface to give an idea how it is all implemented together. To compose a message (create a new message to send to someone), click on the "Compose" button. You will be presented with a "Compose Message" screen. You must then fill all the fields required. They are:
To:

the player's username you are sending the message to.

Subject:

the title of the message you are sending.

Message:

you may type in what you desire in the message space given.
Send: this will proceed into sending the message to the player you chose.
Save Msg: this is to save the current message you are typing into your "Sent" section.
When you click Send, you will be shown a preview of your message you are about to send in the form of what it would look like for the recipient: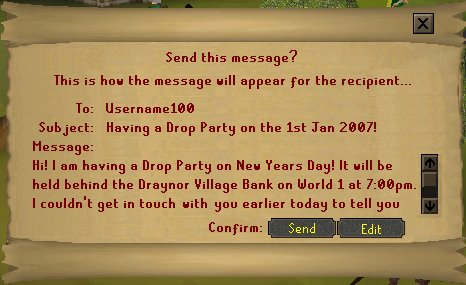 You can read over the message and choose to send the message in the current form. Alternatively, click "Edit" to go back to the compose screen and make any changes if necessary.
Mass Messaging:

You can send one message to multiple players by adding a comma at the end of each RuneScape username, and then typing another next to it. as shown above Also note that you would be only allowed to send to a maximum of ten players to help reduce the amount of spam being sent.
5. Drafts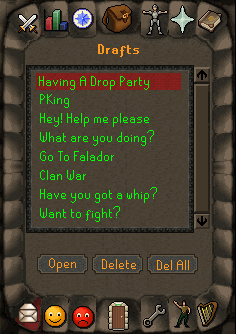 This is where a list of all messages you have composed, but have chosen to save them to send out at a later date. You can save a draft by clicking "Compose" and then typing up the message and clicking "Save Msg". It will automatically be stored in the "Drafts" section.
To then send drafts out when you are ready, simply click on the message in the "Drafts" section and click "Open" to open the message for any more editing, "Delete" to delete the message, or "Del All" to delete all messages in your "Drafts" section (this works just like the Inbox). Again, you will be asked for confirmation of deleting all the messages in your "Drafts" list. You can then send the message once you are satisfied with it.
6. Sent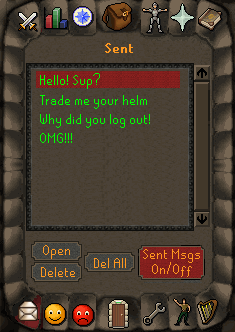 This appears to be very similar to the "Drafts" section, however all messages that you have composed and sent will be stored here if you choose the option. If you want all messages you send to also be placed in the "Sent" section, click the "Sent Msgs On/Off" button. When clicked, it will be highlighted red which means the option is turned 'On' and sent messages will appear in this section. When not highlighted red, it means that the option is 'Off' and sent messages wont be placed in this section.
Click the "Open" option to bring up the message, and with this you may send it out again (like composing a message). You may also "Delete" any selected items as well as "Del All", of course with the warning prompt for both,
7. Possible Problems & Solutions
Spam:
Spam is already a current problem with normal e-mailing. Offline Messaging would no doubt be vulnurable to spam as well. That is why you would be able to filter the people who can send you Offline Messages to, and who can send Offline Messages to you.
Solution:
You would be able to toggle Offline Messaging to "On/Friends/Off"

just like the Public Chat, Private Chat and Trade/Compete filters on the bottom of the screen. Initially, this filter will be set as "Friends" as the default option. If you also feel that you are receiving a lot of spam from certain users, you do have the option to "Block" the user or "Report" their message/s to Jagex staff by clicking the "Block" or "Report" button when viewing a message.
Possible lag due to messages stored on every character:
Lag could potentially be a problem due to the amount of extra data Offline Messages may accumulate. However, it is not 100% guaranteed that this would be a factor at all.
Solution:
A 100 messages storage space limit would help this situation. It is a reasonable amount of space and stops an overload of messages in a player's account. Also remember that the 100 message storage space includes Inbox messages, Sent messages and Drafts.
Abuse/Word Filtering:
Abusive messages can be sent to other players.
Solution:
An "On/Friends/Off" option for Offline Messaging would help this situation as well. If set to "Friends", only those who are on your friends list would be able to send to you, and this would be the most common and recommended option to all, as well as the default as already mentioned. Just as normal chat in-game has swear filters, so would offline messages. For example, filtering of websites and such would remain, as unsafe websites could be sent all over RuneScape. Once again, if you receive and abusive message, you do have the option to Block or Report the user by clicking the "Report" or "Block" button when viewing a message.
Composing Messages interfering with game:
Whilst you are typing a message to someone, your character is still standing in that same place vulnurable to attacks, random events and other factors.
Solution:
In the case that you are attacked by something or interrupted somehow, the "Compose Message" screen will automatically close. Once the danger has passed, you can click on the "Compose" button again and the message you were typing would be still there. It would be recommended not to compose a message in an unsafe place like the Wilderness, unless you think you are completely safe.
8. Conclusion
That basically sums up my Offline Messaging idea. I explained the key functions of the system and used a series of pictures to help demonstrate my descriptions of the buttons and different screens. This has been a vast expansion on the initial concept that I came up with several years ago. This system would not make the game easier regarding skills and making money, only making the game easier for RuneScape users to keep in contact when urgently needed. Please feel free to discuss this suggestion and have an opinion, as well as providing me with constructive critism. I would not mind if you pointed out any flaws or something you think would be good inclusion to this suggestion to make it better.
9. Support Signatures
Choose from the three support signatures below to add into your signature. All codes provided ensure the image links to this topic.
http://img476.images...essagingpp2.png
[Image blocked; please upload it at an
approved host
.]
[url]http://www.zybez.net/community/index.php?showtopic=463883[img]http://img476.imageshack.us/img476/6315/messagingpp2.png[/img][/url]
http://img248.images...ssaging2vy2.png
[Image blocked; please upload it at an
approved host
.]
[url]http://www.zybez.net/community/index.php?showtopic=463883[img]http://img248.imageshack.us/img248/7518/messaging2vy2.png[/img][/url]
http://img239.images...ssaging3yo5.png
[Image blocked; please upload it at an
approved host
.]
[url]http://www.zybez.net/community/index.php?showtopic=463883[img]http://img239.imageshack.us/img239/2928/messaging3yo5.png[/img][/url]
A special thanks to whiteyboy5 who created these signatures.
10. Version History:

Version 1 - 11th January, 2006:

- Suggestion created
- Post submitted

Version 2 - 16th February, 2007:

- Added Table of Contents
- Added Version History
- Added Support Signatures
- Updated all images / added new images
- Tweaks to presentation and text

Version 3 - 24th May, 2007:

- Added Suport Signatures
11. Credits
I would mainly just like to thank the website
The Dragon Island
for the downloadable RuneScape font that was an immense help and time saver for making the pictures. It definately added professionalism to the whole presentation of this suggestion. Also, MS Paint for being so easy to use! And finally thanks to whiteyboy5 for the support signatures and all of those who contributed to the suggestion over the years by thinking of ways to improve it.
Edited by Greedyguts, 24 May 2007 - 01:15 AM.