Ya Rokkari set up a fight against DI with a few days prep and it was also day for our 10th anniversary.
Rules were basic:
1hr cap - all styles - Spiders - gds bounds
Fools starting:
DI starting: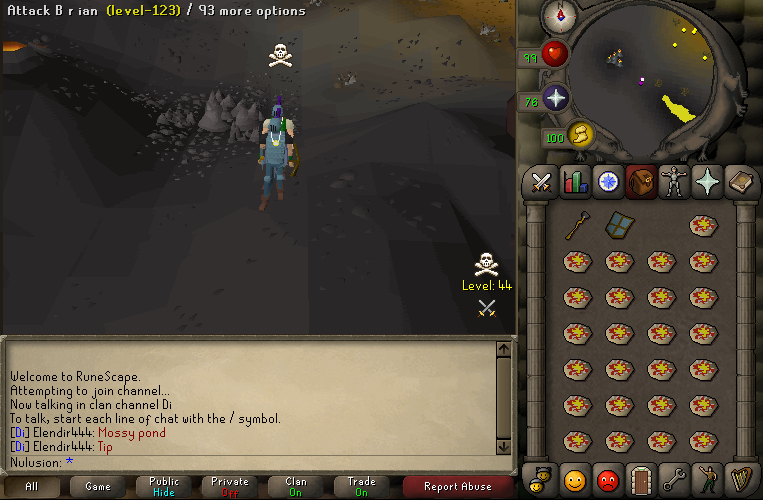 DI pulled couple more than us but we didnt let that affect on us. Fight started when DI rushed us at west tree and kept going pretty even and fun the whole time. Even some randoms tried to crash or w/e they didnt really have effect to the actual fight at all. After 1hr we compared opts and it was following:
Fools ending: (32 on ts)
DI ending: (40 on ts)
PICS:
Thanks for the fight DI was enjoyable.
VID will be up shortly.
https://www.youtube.com/watch?v=MZJlGb0mWSQ&feature=youtu.be
_________
Yea probably no one knows exactly the official date since theres like 1 active member around whos been in Fools since day 1 and hes alcoholic. But it was around may 2004 when Fools was formed. It's been a long journey going through all these years including uphills and downhils but we actually achieved it. And I feel privileged to be able to wish a happy 10th birthday to Fools as a clan and I want to thank all of the people who have shed sweat and tears during these years to keep the clan running all these years.
Not sure how many people still reads this board but special thanks to few clans that kept the game interesting in the past: Northern Gods, TRWF, The Rising, LF/LDK (and all the lith clans), Forsaken, Euphoria and now later on Vitality/CD also. And every other clan who have been offering us the battles and rivalries throughout this time. No hard feelings its been fun.
Felt like doing some shoutouts so its done now. Because no one probably knows how long this game is still going to last.
Some pictures through our years:
Trying to update some like OLD pics in too later but pretty hard now that hosting sites are either gone down or removed old pics.
And our historic about early days of Fools that was posted when we had our 5th birthday back in 2009:
Also youtube that has a bunch of our fights incase someones interested:
https://www.youtube....r/FoolsOfficial
Anyway happy summer etc. to everyone. We'll see what future brings. Peace.
Edited by The Lord88, 18 May 2014 - 7:02 PM.