::::[RuneScape Skillers]::::[The Lavadragons]::::[The Slayers Guild]::::
~

This is my story.
For an absolute, 100% perfect view of this thread as it was intended to be seen, please ensure your browser is opened wide enough to see this very sentence as one complete line.
I recommend viewing this thread in Thoreau Dark Skin personally, but the thread looks great on any.
http://images-mediawiki-sites.thefullwiki.org/08/9/2/8/189284026853544.png [Image blocked; please upload it at an approved host.] [Zybez] Vs. Corporeal Beasthttp://images-mediawiki-sites.thefullwiki.org/08/9/2/8/189284026853544.png [Image blocked; please upload it at an approved host.]
∞∞

Date: 4th June, Saturday

∞∞

Time: 1.00pm EST, 6.00pm BST (GMT+1)

∞∞

Clan Chat: Cthulthu

∞∞

Drops: CoinShare

∞∞

World : 84

∞∞




∞∞

Meeting Place: Meet at Edgeville.

∞∞
http://www.youtube.com/watch?v=QMkMR22YsLk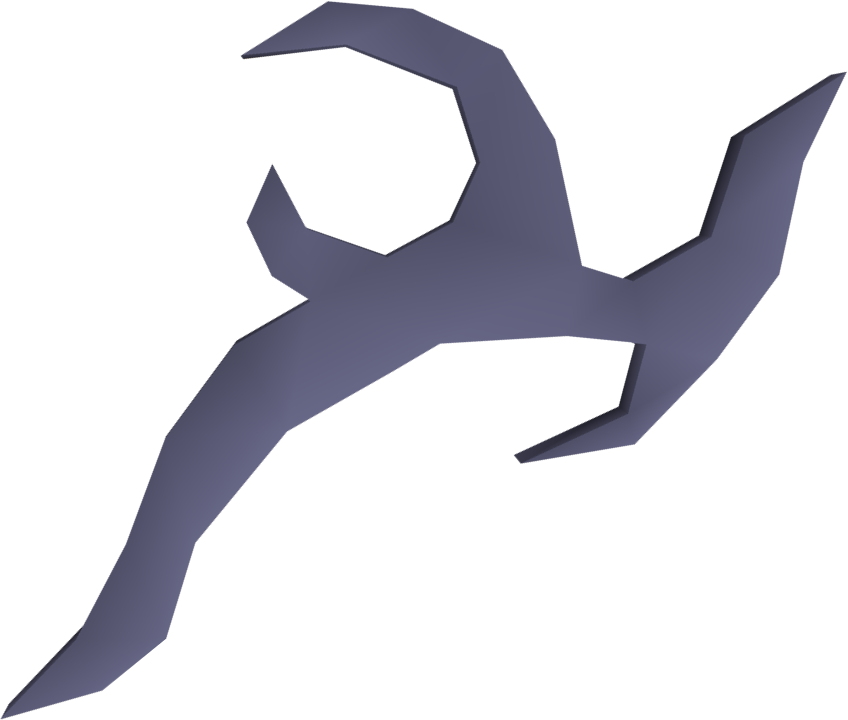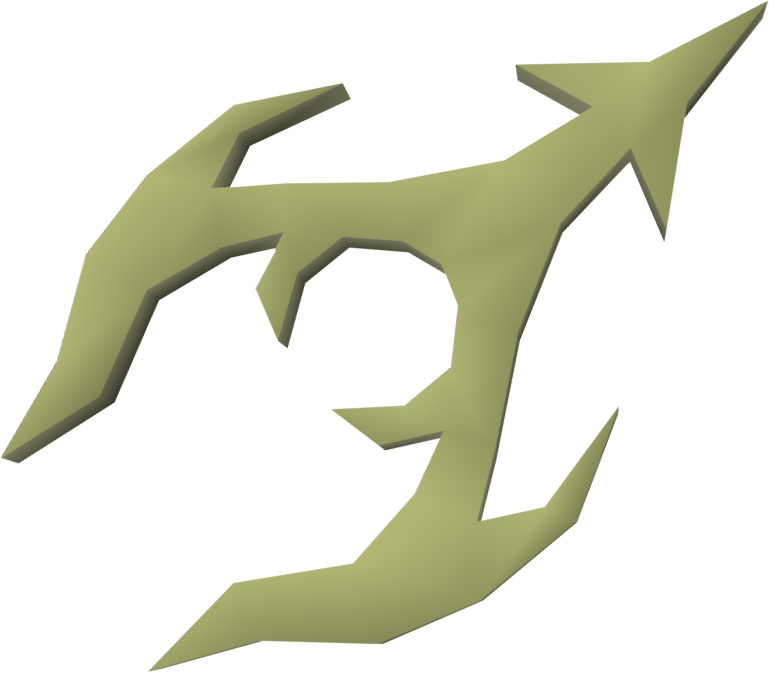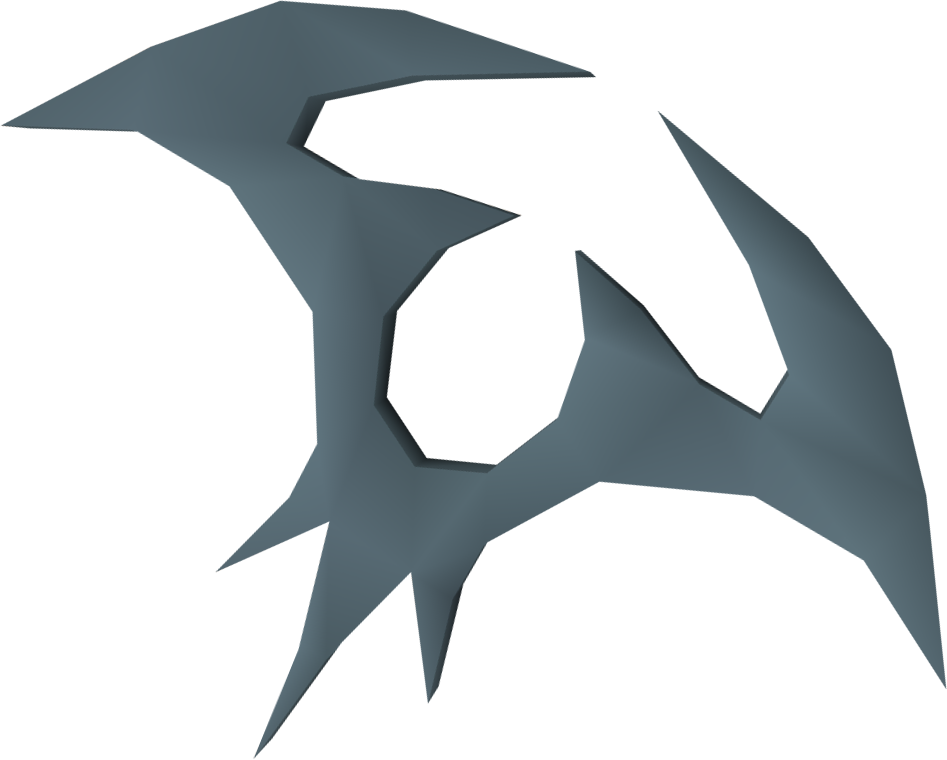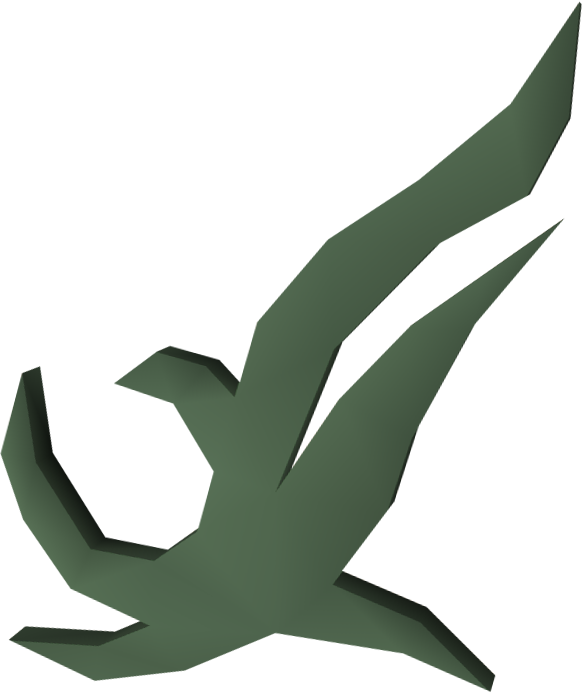 For the official post, all the details, links to guides and all the other information you need to know, - Click Here!!
Why should you read?!
Hey Guys. Let me tell you about this G&A and what you will find ahead!


∞∞∞∞∞∞∞∞∞∞∞∞∞∞∞∞∞∞∞∞∞∞∞∞∞∞∞∞∞





* A Character with 2441+ skill, including 21 99's & 138.6 Cmb and huge levelling archives.




(Click Here)

to see my 99's &

(Click here)

for the Level's archive
∞∞∞∞∞∞∞∞∞∞∞∞∞∞∞∞∞∞∞∞∞∞∞∞∞∞∞∞∞
* Item drops all together worth well over 600 Million gp.
(Click here)
to go to Drops & Clues
∞∞∞∞∞∞∞∞∞∞∞∞∞∞∞∞∞∞∞∞∞∞∞∞∞∞∞∞∞
* Third Age Plate Clue!
(Click here)
to go to the picture!
∞∞∞∞∞∞∞∞∞∞∞∞∞∞∞∞∞∞∞∞∞∞∞∞∞∞∞∞∞
* Monthly blogs that give an insight into my runescape world.
(Click me)
to see my blogs
∞∞∞∞∞∞∞∞∞∞∞∞∞∞∞∞∞∞∞∞∞∞∞∞∞∞∞∞∞
* My views on skills and more importantly to you, the methods i used to gain exp in those skills.
(Click here)
to see how I'm training my current goal skills
(here)
to learn about how i got my other 99's
∞∞∞∞∞∞∞∞∞∞∞∞∞∞∞∞∞∞∞∞∞∞∞∞∞∞∞∞∞
* My Bank picture worth over 1.4+ billion
(Click here)
to see it!
∞∞∞∞∞∞∞∞∞∞∞∞∞∞∞∞∞∞∞∞∞∞∞∞∞∞∞∞∞
Is that not enough for you?! It certainly was in January/September 2009 and May 2010!!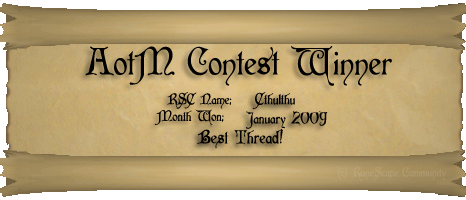 http://img23.imagesh.../welcomeqw6.gif [Image blocked; please upload it at an approved host.]



∞∞ Name: Neil ∞∞ Age: 23 ∞∞ Birthday: 1st September 1987 ∞∞ Born: Frimley - Surrey ∞∞ Home: South West London ∞∞
My real name is Nelesh but i hate it so I've called myself Neil, the name my mother wanted to give me. I was studying
Ancient History, Egyptology & Archaeology at Swansea University but I've graduated since and i am now working part-time
and temporarily, giving me plenty of time to continue playing Runescape. This is my Story.



∞∞∞∞ My Runescape ∞∞∞∞

I started playing Runescape in late 2001, i joined because my friends were playing the game and my aim was to be the best among them.
I quit sometime in 2003 and rejoined in 2005 and it wasn't till 2006 when i went from a casual player to a skiller. I made my first real money
during the week of the barrows update by getting 2 pieces of equipment which i can't remember but which was irrelevant because they both
sold for 5m a piece anyway. My first level 99 was fletching was i attained in a race with a friend which i won and that was shortly followed by
99 attack. My first clan was The Lavadragons which was created in March 2003 and which i joined shortly before i stopped playing Runescape,
but rejoined in 2005 and since have been with and still am with, albeit with a few short breaks in between. Now i have 21 99's but no intention
of getting any more in the near future because i have no intention of forcing myself to train skills i don't like (skills that often require my full
attention and effort). Most of the 99's i have were attained while i watched videos & shows and all means of media, and when there is a skill
i cant train without being able to watch a program, it's a strain because of the boredom that sets in, hence why i struggle to train RC, Agility &
Hunter. So i can't really call myself a skiller, instead, I'll call myself an ordinary players, a player who does whatever he feels like and is not limited
to one dimension of the game.

I like turtles.


∞∞∞∞ Gaming ∞∞∞∞

I own an awesome PC with ATI Raedon 5750 graphics card, a PSP, PS2 & Xbox 360. I also owned a Megadrive, Playstation and gameboy,
my first 3 consoles in that order. Generally speaking i like to play strategy games such as DOTA on Warcraft III, Total War - Rome,
Command & Conquer, Cossacks and games like those in which most involve you building infrastructure to create units. I also love sports games,
mainly football, racing, hockey & tennis, my favorite two currently being Fifa 2010 and GRID. I used to play a lot of Formula 1 games but since
switching to the Xbox 360, that hasn't been possible. Of all genres, my favorite is RPGs and that was since i played Final Fantasy VII and
Legend of the Dragoon on the Playstation. Since then I've played all the final fantasy games and many more Squaresoft/Enix RPGs.
Obviously among my favourites is Runescape, the only MMORPG i play, though I've tried many other in the past but have never enjoyed
them as much as Runescape. Among my other favorite games are the Grand theft Auto series, the Metal Gear Solid series, Kingdom Hearts series,
The Sims, SimCity & most Tycoon games.



∞∞∞∞ Sport ∞∞∞∞

I love playing and watching sports. I used to play Rugby for my school, i played 2nd row forward and also football but only with friends, and
I'm very bad at it because of my slow response time which ends in me fouling quite often. I love watching football, i support Manchester United
and i also love watching Formula 1. I support Michael Schumacher and always have done since one day when i decided to watch a race, i
enjoyed watching it and decided to support whoever came 2nd in the race (not wanting to be a glory hunter but still wanting to support
someone capable of winning) and that was Michael Schumacher when he was in the Benetton. My first full season of watching was in
Schumacher's first season with Ferrari. Since then I've never regretted it, for obvious reasons such as being able to follow his success but
also because of the type of person he is, the sort of person who tries to win at all costs, even if it's illegal and dangerous.



∞∞∞∞ TV & Cinema ∞∞∞∞

Like most people, i like watching TV, i watch a variety of programs from England and America which i watch on 4oD, BBC I player, Youtube &
the rest i download from a variety of sources. Here's a list of programs i watch as soon as they air, in no particular order: House,
Brothers & Sisters, Smallville, The Mentalist, The Simpsons, South Park, Family Guy, Curb your Enthusiasm, Friday Night Lights,
Quite Interesting, Top Gear, The Apprentice, 24, Nevermind the Buzzcocks, Big Bang Theory, Mock of the Week, Live at the Apollo, Kitchen
Nightmares, America's Dirtiest Jobs, Hell's Kitchen, Two and a half men, Modern Family, 30 rock & How i met your mother.
My favourite movies of all time have been the Rocky series and the Die Hard series. These are pretty much the only movies i can watch
again and again and still love. I generally love movies in which there is an underdog who is trying to make it to the top or faces great adversity.
I used to watch a lot of movies but less so recently as they have become all too similar. I do however always keep an eye out for movies
that include my favourite actors, such as Nicholas Cage, Robert De Niro, Tom Hanks, Johnny Depp & Jack Nicholson among a great many others.
Among my top movies of all time though have to be the Rocky, Rambo & Die Hard series.


∞∞∞∞ Music ∞∞∞∞

I listen to Rock, Indie & Punk mainly but certainly not limited too. I HATE metal & R&B. In terms of rock i listen to Nickleback, Creed, Guns & Roses,
Dream Evil & others. In terms of Punk i listen to Blink 182, The Clash & Sum 41. In terms of Indie which is really popular in Britain right now, I'm
listening too Razorlight, The Killers & The Automatic. Other groups/bands i listen to include Alkaline trio, Blur, Fatboyslim, Coldplay, Eminem,
Faithless, Genesis, Kasabian, Basshunter, Rage against the machine, My Chemical Romance, Oasis, Panic at the Disco, Red Hot Chili peppers,
Linkin Park, Travis, Sting & Within Temptation. On top of all that, i like a few singles such as Crazy - Gnarls Barkley, Land of Confusion - Genesis,
Beautiful Day - U2, Destiny - Syntax, Sanctuary - Utada Hikaru. I could list for ages but i won't, i think that pretty much sums up what I'm listening
too and the type of music i like.



∞∞∞∞ Books ∞∞∞∞

The 3 main authors i read books by are Robert Harris, JK Rowling & Dan Brown. Obviously, Rowling wrote the Harry Potter series which I've
loved in book form (not so much as movies). My favorite chapter in the entire series was the one in the last book about Professor Snape
towards the end of the book, about his childhood and the truth about his actions. I've read DaVinci Code, Angels and Demons & Digital Fortress
by Dan Brown, all great books full of twists and turns and so much interesting factual information such as 'Divine Proportion' as mentioned in
the Da Vinci Code. As for Robert Harris, I've only read Imperium so far in full and a couple of his other books I'm half way through, one being
about war time Germany. Also, very recently i bought Stephanie Meyer's Twilight saga which i have yet to complete reading and will do soon,
my attention was brought to the series having watched the film, it was great. I do read other stuff but it's not worth mentioning, and on top of
that is my university reading which takes up most of my reading time, books on Roman, Greek and Egyptian history in particular.



Click on any of the pictures to direct you to that section & click backspace on your keyboard to return to the contents.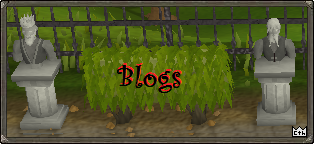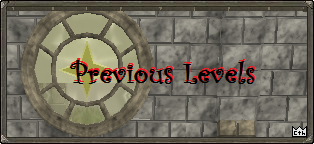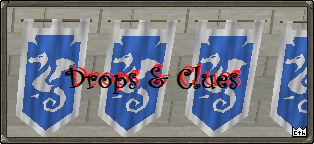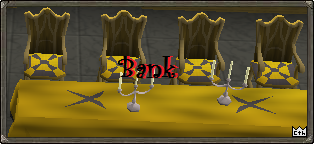 29h May 2011



http://www.youtube.com/watch?v=3_Hkkn3O5R4



27h May 2011



http://www.youtube.com/watch?v=Cpq1nKrD2fo



20h May 2011



http://www.youtube.com/watch?v=nUxQcotyobg



18h May 2011



http://www.youtube.com/watch?v=9LESek0y6Zk



17th May 2011



http://www.youtube.com/watch?v=O-pxJhf5T-Y



12th May 2011



http://www.youtube.com/watch?v=JC2s5AoeuBY



11th May 2011



http://www.youtube.com/watch?v=Y7vrCpS7oCc



8th May 2011



http://www.youtube.com/watch?v=uvDhJUlrzcY



6th May 2011



http://www.youtube.com/watch?v=f76_17l3SfY



4th May 2011



http://www.youtube.com/watch?v=n1Kuvu6K-o0



1st May 2011



http://www.youtube.com/watch?v=UKmC6p8jUkU



29th April 2011



http://www.youtube.com/watch?v=tONsFvz0lfY



28th April 2011



http://www.youtube.com/watch?v=0xb84b2AAv8



27th April 2011



http://www.youtube.com/watch?v=8FfxY2JY1_E



26th April 2011



http://www.youtube.com/watch?v=cgalgrmY7K8



25th April 2011



http://www.youtube.com/watch?v=vP0nqcrriB0



24th April 2011



http://www.youtube.com/watch?v=G43H1OWAn-Q



21st April 2011



http://www.youtube.com/watch?v=KnXbY6KwOBw



20th April 2011



http://www.youtube.com/watch?v=ISu8UhK-FYc



19th April 2011



http://www.youtube.com/watch?v=waQ4x-o7k0w



10th April 2011



http://www.youtube.com/watch?v=lyrtyrOoWHY

::::

Dark Bow 106

::::

Saradomin Hilt 6 to 7

::::

Bandos Hilt 4

::::
::::

Staff of Light 21

::::

Dragon Legs 11 & 12

::::
::::

Dragon Med 36 to 37

::::

Shield Half 11

::::

Elite Clue 15

::::
::::

89 to 94 Hunter

::::

92 Agility

::::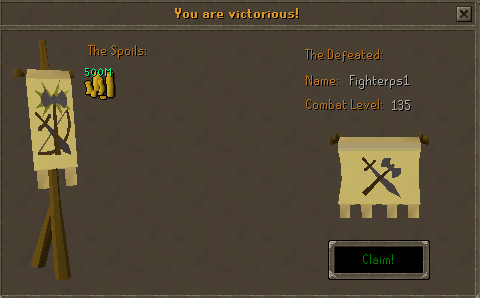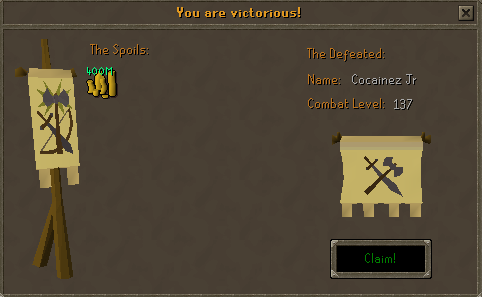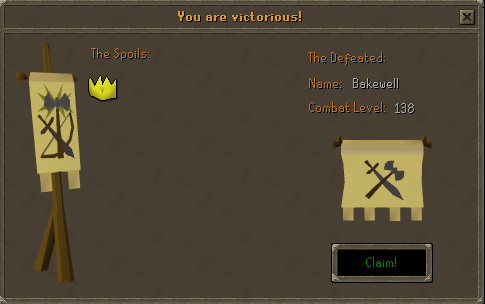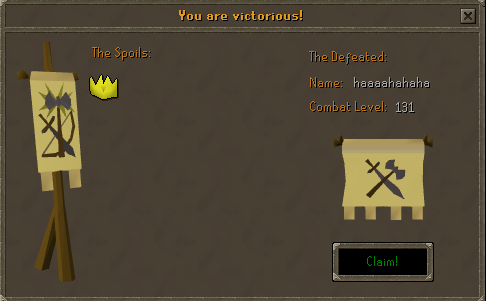 22nd February 2011



http://www.youtube.com/watch?v=4xrkWcBsvAY

::::

Staff of Light 20

::::

Dragon Skirt 13 & 14

::::
::::

Dragon Med 35

::::

Holy Elixer10 & 11

::::
:::: Buying Torva Plate :::: Selling Torva Plate ::::



5th February 2011



http://www.youtube.com/watch?v=YQHoAqBFpA0

::::

Dark Bow 105

::::

Bandos Chestplate 12

::::

Warrior Ring 29 to 30

::::
::::

Berserker Ring 24

::::

Staff of Light 19

::::
::::

Dragon Med 33 to 34

::::

Holy Elixer 9

::::

Bandos Boots 10 to 11

::::
::::

Saradomin Sword 32

::::

Clue 191 to 193

::::
::::

Elite Clue 13 to 14

::::
::::

99 Runecrafting

::::

91 Agility

::::



16th January 2011



http://www.youtube.com/watch?v=qhxOhtKD24Q

::::

Pernix Body 1

::::

Dark Bow 104

::::



6th January 2011



http://www.youtube.com/watch?v=OErzS2nfJss

::::

Dark Bow 88 to 103

::::

Bandos Tassets 11 to 12

::::

Warrior Ring 28

::::
::::

Dragon Hatchet 25 to 27

::::

Seers Ring 3 to 5

::::
::::

87 to 89 Hunter

::::



21st November 2010



http://www.youtube.com/watch?v=wyKmDyYHQsg

::::

Elysian Sigil 1

::::
::::

90 Dungeoneering

::::

90 Agility

::::



29th October 2010



http://img441.images...001/visage6.png [Image blocked; please upload it at an approved host.]



Hey guys, it's been a month since my last update but not all that much happened because i've just not been playing as much recently. The month started very well with me getting yet another visage from a iron dragon, my 2nd from them and my 6th overall, and just before that, i got a blue dragon mask from Clue 184 (check Archives). Also this month, i got loads of warrior rings, dragon hatchets, Berserker Rings and Dark Bows which i'm sure would make anyone jealous. After such hardcore slayer for the past 2-3 months, i finally got bored of slaying and have currently stopped slaying with a 136 dagannoth kings task which i'll resume at some point this week, but it's been 2 weeks now since i stopped, not including my dagannoth kings event which was just coincidence. Other than slayer, i've been spending most of my time doing afk stuff like killing Dark Beasts, hence all the Dark bows listed below, and also woodcutting magic logs. Can you imagine how many more drops i would have got if i continued slaying? Dagannoth Kings is just such an incredible task, i've been averaging a drop every 35 kills so far.



::::

Level 98 Runecrafting

::::
::::

Berserker Ring 15 to 23

::::

Archers Ring 4

::::

Warrior Ring 15 to 27

::::
::::

Dragon Hatchet 18 to 24

::::

Dragon Med Helm 27 to 31

::::

Dragon Skirt 11 & 12

::::
::::

Dark Bow 77 to 87

::::

Mud Staff 2 & 3

::::

Dragon Platelegs 9 & 10

::::
::::

Dragon Left Half 10

::::

Clue 184 to 190

::::

Elite 10 to 12

::::

Zammy GS3 2

::::

In other news, a friend of mine (w91 skiller) who seemed to always joke about selling his purple phat to me for cash (which he got for his Elysian which he sniped from the Cororeal Beast), actually did go ahead and sell it to me for 100% cash. He wanted to money to merch with it and 'turn 500m into 1b', so goodluck to him with that, hopefully his merch works out, but it seems i didn't need a merch in order to boost my street value because i'm now 1b better off as street price goes :P Almost immediantly, i upgraded the purple to a yellow with the aid of my Pumpkin, and now i'm left with a Yellow Phat and my Elysian. I am now looking to upgrade it to a Red with my Elysian, Yellow and Cash, so wish me luck in that quest :P It actually shouldn't be too hard because my offer is good, but im holding out until i find someone with no so damaging junk.
Also, today as i decided i would update my thread, i also made some small improvements. I removed some blocks of text that looked bad, remove my text title, removed some uncessary paragraphs and i have hidden all but 3 blogs so that the thread isn't as huge as it was. I want to finally add a new Youtube section, not like the way other people do it with non-relevant videos they like, but videos made by me about Runescape and the things i do. So look forward to that within the next couple of days. I think i will also go over all the text in the 2nd post too, make it all a little nicer to read, and then behind the scenes, i think it's time to re-do the thread framework because like all threads, there is contsant evolution and the framework disintergrates to a point where i realised the entire 1st post was all centered and yet because of the hundreds of times i changed the allignment of different sections, i've ended up having like 10 center tag pairs when all i need now is 1. So i plan to re-do the framework so it's not such a mess and so that i can make it easier to edit my thread and reduce the chances of errors.



27th September 2010




Hey guys, this week i once again became leader of my clan, the Lavadragons, though this time i became top dog rather than co-leader. I'm concentrating on recruiting this coming weekend with a God Wars recruitment event which is advertised at the top of this post and which every in welcome to come too, regardless of whether you might join or not. The link to the clan forums can also be found at the top and bottom of every post, along with my slayer guild and my skillers clan, so take a look at any you might be interested in joining (as long as you have the requirement too). This last fortnight has been a slow one, because i haven't been playing as much. I've also slowed down my slayer and therefore effigy progress a lot in the last month because of work but also because i'm doing a larger variety of tasks that slow me down like Nechs and dust devils and also because it takes hours now to complete a black dragon task at KBD and a Dagannoth Task at Dagannoth King's, though the latter is definitely worth the extra time spent in terms of money, where as KBD, apart from a lot of D Meds, hasn't really been very profitable in that...well, it hasn't dropped me a visage yet :P I should probably give up on that hope and speed up the task by going back to normal black dragons. I've had plenty of drops as you can see below, and a amazing 3 dragon claws and 2 lumps at the Zybez mass i hosted a few days after the last blog, not much money but it makes my Tormented Demons archive look a whole lot nicer :P
::::

Level 86 to 89 Agility

::::
::::

Berserker Ring 14 to 15

::::

Seers Ring 1 to 2

::::

Warrior Ring 11 to 14

::::
::::

Dragon Hatchet 16 to 17

::::

Dragon Med Helm 23 to 26

::::

Dragon Skirt 10

::::
::::

Dark Bow 76

::::

Dragon Claws 3 to 5

::::

Ruined Dragon Lump 2 to 3

::::
::::

Staff of Light 17 to 18

::::

Clue 175 to 182

::::

Elite 4 to 9

::::
In other news, i've almost complete the 2nd to last stage to getting 99 Agility, that being to gain level 92 agility so that i can use all agility effigies (with Summer pie, +5). I went from 86 to 89, using about 6 effigies (all my 97 RC effigies) and also using barbarian horn having spent a little time at Barbarian Assault. The only reason i really trained to 89 Agility was so that i could use level 89 requirement lamps from Elite Achievement diaries on Agility rather than using them on RC, my only alternative, which i don't want to do or else i will get 99 RC quicker and meaningful exp by assistance will be over. Having said that, it will be over soon because i am about 1k from 98 Runecrafting and that will leave me with like, 1.2m exp to get till 99, so that will be 40 days, so not too long to go. The last thing to really talk about are my epic clues, i've been getting really lucky recently, it started with a unicorn mask from a normal clue which i sold for 6.5m, then a Bandos Full Helm which i think was 1.4m, a Bandos Plate worth 3m and still hasn't sold and now a Bandos Coif with a Guthix Bow which can be sold with 40-60m junk apparently, so its been a decent fortnight of clues. Apart from all that, the last piece of news is that i joined Dragonwood to get back into PvP but its a bit disappointing they are mainly F2P based, which i didn't know when my friend asked me to join, but regardless, i've had a good time with them, having won 5 of the 6 battles we've had, including 2 PKRIs which in total i ended with 10-0 K/D and also a Pk Trip which ended 6-1, so not bad at all, at least it's fun, profitable and i don't die often but i wish they had more P2P events because i want better loot :P That's it for this fortnight, until next time, cya.
9th September 2010
Hey guys, since the last update i've been in a Zybez slayer competition and we've had Double xp weekend and i finally had enough of using Chaotic Longsword, and went back to train dungeoneering for more tokens, and a nice new weapon. The week began with the slayer competition which right from the start i wasn't going to try and win, but rather do my best and make as much money and get as many effigies as i could, and i achieved that quite nicely. I got 3 Dagannoth Tasks during the competition and went to Dagannoth Kings as i said i would from now on for all Dagannoth tasks, and it continued to pay off quite nicely, with me getting plenty of drops from them as listed below (partly continued from the last blog). As well as that, i also got plenty of lvl 3 clues, none of which really stood out as special and in the competition, i ended up 6th with 500k slayer exp in the week, which is actually about half of what i get on a normal slayer week, but due to the dagannoth tasks taking so long. With the new occult floors out for dungeoneering, i couldn't help but train a bit of dungeoneering and then i jut had enough of chaotic longsword, having seen so many people kill so much quicker than me with their rapiers, and i just decided to go and get it, and today i did, as you can see in this blog's main picture and now there shouldn't be anything holding me back from slaying for effigies as fast as possible and maxing out soon.
::::

Level 85 to 89 Dungeoneering

::::

Level 81 to 87 Hunter

::::

Level 86 Agility

::::
::::

Level 97 Runecrafting

::::
Dark Bow 73 to 75

::::

Clue 162 to 175

::::

Dragon Medium 22

::::
::::

Dragon Hatchet 11 to 15

::::

Warrior Ring 8 to 10

::::

Beserker 11 to 13

::::
In other news, the last two weeks have seen great progress for in terms of skilling, and i've made huge progress especially in Dungeoneering and Hunter. I've gone from level 84 dungeoneering to 89 in my quest to attain the chaotic rapier, and will probably take a couple of weeks break from it now when i get tired of the rapier and want a new toy to play with. I also went from 80 Hunter to level 87, and i intend to get 89 hunter atleast because i recently found out that ooglog mud pool give +8 hunter levels which means with level 89 hunter, i can use the pool to boost my level to 97 and do all hunter effigies, and what will greatly speed up the rate at which i get 99 hunter. In terms of Agility, i have gained level 86 from hunting butterflies and with the help of Achievment diaries, am 60k away from level 87 which i will get later today because i still have the Karajama and Fremmnik diaries to do, and in terms of Runecrafting, the last of the skills i have yet to attain 99 in, i have gained 97 Runecrafting. I have enough effigies to get 98 RC and half way to 99, but i'm starting to wonder if usin effigies for the rest of the RC exp i need is a wise idea. RC is the only skill i have left that i can assist for, and the sooner i get 99 RC, the sooner i have nothing to gain from assisting, so it might be a better idea to assist to 99 RC from now on, and save the effigies for Agility and Hunter, probably Agility being the priority. It's still a decision i need to make but i'm quite certain i will choose not to use effigy lamps on RC from now on.
One last thing, i've decided not to link all the drops i got this fortnight on the blog itself. From now on i will let you know what i get through listng the item or if multiples of the same item, then a range. If you want to see the pictures, just head to the archives, so if i list Dark Bow #75 on the blog, it means the link to the drop can be found in the archives. I'm doing that from now on because it's simply too much work for me to do nowadays and i dont have the time to be spending it on such a trivial thing :P
That pretty much it for this fortnight, cya next time.
Previous Blogs
::::[RuneScape Skillers]::::[The Lavadragons]::::[The Slayers Guild]::::
Edited by Cthulthu, 23 March 2012 - 10:36 AM.